I made brownies tonight & they were delicious. I have had a hard time finding a recipe that everyone in the house all like. Either one person likes it & another one doesn't. Tonight I finally made a winner & wanted to share it.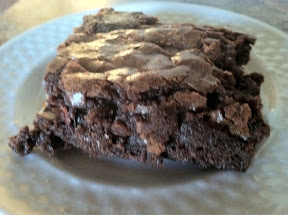 Brownies
2 1/4 c. Flour
3 c. White sugar
3 cubes of butter
4 eggs & 1 egg white.
2 tsp. Vanilla
3/4 c. Cocoa (this wasn't exact just until it looks good)
walnuts (optional)
Mix cocoa & sugar. Melt butter & add to mixture. Add rest of ingredients Adding flour last. Mix well. It will be pretty thick. We added a handful or two of walnuts at the very end. Pour into a greased 9x13 pan. Bake at 350 degrees for about 30-35 or until a butter knife comes out clean.
Simple, delicious, & rich enough you only need one. Or maybe 2 with a glass milk. Either way enjoy!!!
-Until later,
Me