So I promised to show of we made for my boys for Christmas. Here is the first set of pictures. I tried to get my boys to be "models" but it's not really their thing, so what we see is what we have.
What we did, is I made all three of my boys Wool vests. I couldn't get my little dude to pose for anything, so I will have to try again. I had been thinking about making them for quite some time, but I was hesitant. I am a quilter more than a seamstress, but my husband was sold on the idea. He was so excited, that one night when I just wanted to crawl into bed due to morning sickness. Yes, . . . I am one of those blessed people that have morning sickness for my whole pregnancy. I spend 10 months sick daily, throwing up, & dry heaving. It's awesome, but it is how pregnancy & my body get along. ( Or not get along).
So one evening, my husband convinced me he would cut them all out if I would just lay on the bed & tell him what to do, & he did. Bless his heart. The coolest part of these wool vests is that we made them out of old
army blankets like these:
They are made from 70% Virigin Wool, & the fabric is naturally fire retardant. Not because being Fire Retardant is really necessary, but it just makes them sound that much more tough. Vests that you could walk through fire in (not recommended) but it sounds tough. We had a piece of one lying around & cut them, dyed them & lined them with a black flannel. The boys are in love with them & are wearing them everywhere. Well except for my little dude, that is convinced his is a CAMPING only wool vest & won't wear it until we make it camping. It might be awhile, but I will keep on trying to convince him. So I am actually thrilled how they turned out & have had several people ask about them. So I am considering making a few some similar ones, maybe more wool ones & putting them in my Etsy shop. I will let you know if I do. Here is a slightly better look. The blanket we used had a slight pattern in it & you can faintly notice them.
Anyways, I am linking up to the Polkadot Chair Homemade Christmas linky Party.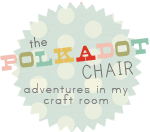 So go check it out & I will try to get my other homemade present on here later this week.