I can't believe that my little boy is already a month old. He is already getting too big to fast.
This is the day he was born & below a picture I snapped of him at the doctors office yesterday.
The days have flown by. The nights, were working on. I took him to the doctor yesterday. & he now weighs: 9 lbs. 10 oz. He was born 7 lbs. 9 oz. So he is gaining weight really good. For the most part he is a good & happy baby. His does get a little fussy at night, but I just pass him off to his daddy; who seems to have the magic touch. Either way we are in love with him & are so grateful we were blessed enough for him to join our family.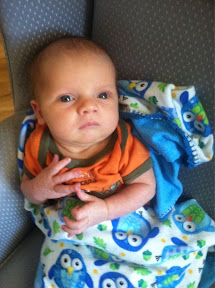 Isn't he just adorable. Oh, I am smitten.