My anniversary is next week. We have been married almost 9 years. Well last weekend my hubby surprised me with an early anniversary present.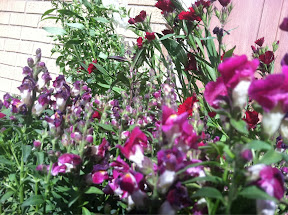 Flats of flowers to plant in my sad looking flower beds. You see there are no flowers currently growing in our flower beds except maybe 2 or 3 and a large crazy amount of weeds.
(Sad to say I studied landscaping in college & have my degree in Horticulture, but you could never tell it by looking at our yard.) Oh well a little each year & one day we will get there.
I am quite excited, you see it was something I wanted to buy, but couldn't justify it as a need. Just a want. So I couldn't do it. But I guess that is what good husbands do. They can help us justify our wants to needs.
So happy early anniversary to me. I was able to get one flower bed planted on Saturday. Now I am trying to take back the other one from the weeds & hopefully get it planted soon!!!
So I can keep putting these beautiful flowers in the ground.
I just love flowers! Happy Wednesday to you!